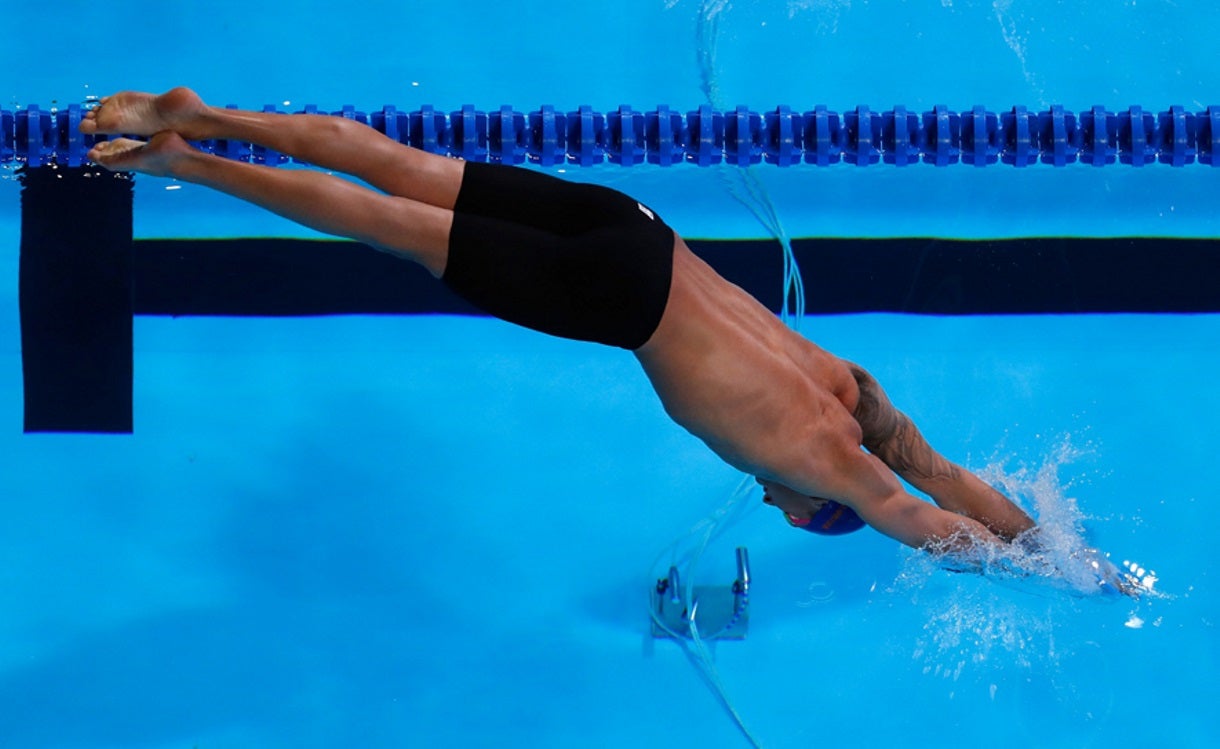 By Mike Gustafson//Contributor | Wednesday, April 18, 2018
The other day, I was venturing down a rabbit hole of online video-watching and witnessed Caeleb Dressel's incredible 17.63 50-yard freestyle. If you haven't seen it, I'll describe it: Dressel dives in, emerges well beyond the rest of the field — and the race was over by the flip.
Like first impressions in everyday life, the first moments of a race are critically important — not necessarily because they will completely win the race alone (unless you're Caeleb Dressel), but because those first two strokes create a swimmer's first impression of a race itself.
Often, after an entire season of training and a few weeks of tapering, I wouldn't exactly know how a race would go until literally diving in. And, for me, it was immediate — I knew then and there if a race would be good or not. I wouldn't consciously think, "This race will be great." But somehow, just diving in and emerging, my body knew.
After watching Dressel dominate this past year of short course swimming, I thought back to my own racing: Often, my best races were best right at the start. It was a dive that was executed well, and some kind of perfect harmony of body, mind, and soul within that first stroke or two. I wasn't a miler, so I'm not suggesting that the dive and breakout is all that important for the 1650 or even the 500 freestyle. But for a 200 IM, or 100 breaststroke, that first initial interaction with the water was everything.
I've spoken to a lot of swimmers who have similar experiences, which made me wonder: Even though the dive itself is only a fragment of an overall race, it seems as though this "first impression" of a race creates a kind of mental and physical momentum. The physical part is obvious enough. But the mental energy generated from emerging a few inches (or yards) ahead of a competitor is significant.
Coaches everywhere know that dives are important. But I don't think, every day, swimmers work enough on this crucial part of a race. Often, diving practice and breakouts are reserved for taper, or as some kind of reward for a difficult practice. But simply acknowledging the mental components of a dive — that first interaction with a race after a long and mentally draining season — can generate a greater emphasis on this important facet of racing. Not necessarily only for a 50-yard freestyle. But for nearly every race.
In business, first impressions matter: A handshake, eye contact, body posture. In public speaking, an opening joke or perfectly executed anecdote. In a movie, an opening scene. In a book, a first line.
As swim programs and training gets more and more technical and sophisticated, I've seen, over the past few decades, much more emphasis placed on the dive. And there's certainly a great emphasis on the dive within NCAA programs. But at the age group level, I think "dive practice" is often seen from coaches as being a "reward" — maybe because dives don't demand a 150 heart rate, or produce a ton of lactic acid, or are even necessarily that physically demanding (not in comparison to a 400 IM repeat set).
But like anything, a race's start can be honed later in a career, but the technical learning how to adjust one's body weight and launch one's self through the water should begin early. Not necessarily because a great dive shaves an incredible amount of time off a race. But because a great dive creates that initial pang of mental momentum.
Think back to races you've done well: When you dive in, and a competitor (or two) zooms ahead of you on the breakout, take a pulse check. What's your mental energy? What's your thought process? Mine was always: "Noooooooooooooo…"
Except for distance events, I argue that the dive is a race's most important part. It might only mean the difference of a few tenths of a second, but like any first impression, a great dive can go a long, long way.
This is used as a workaround to display Twitter feeds properly. Please do not modify or remove - Michael C