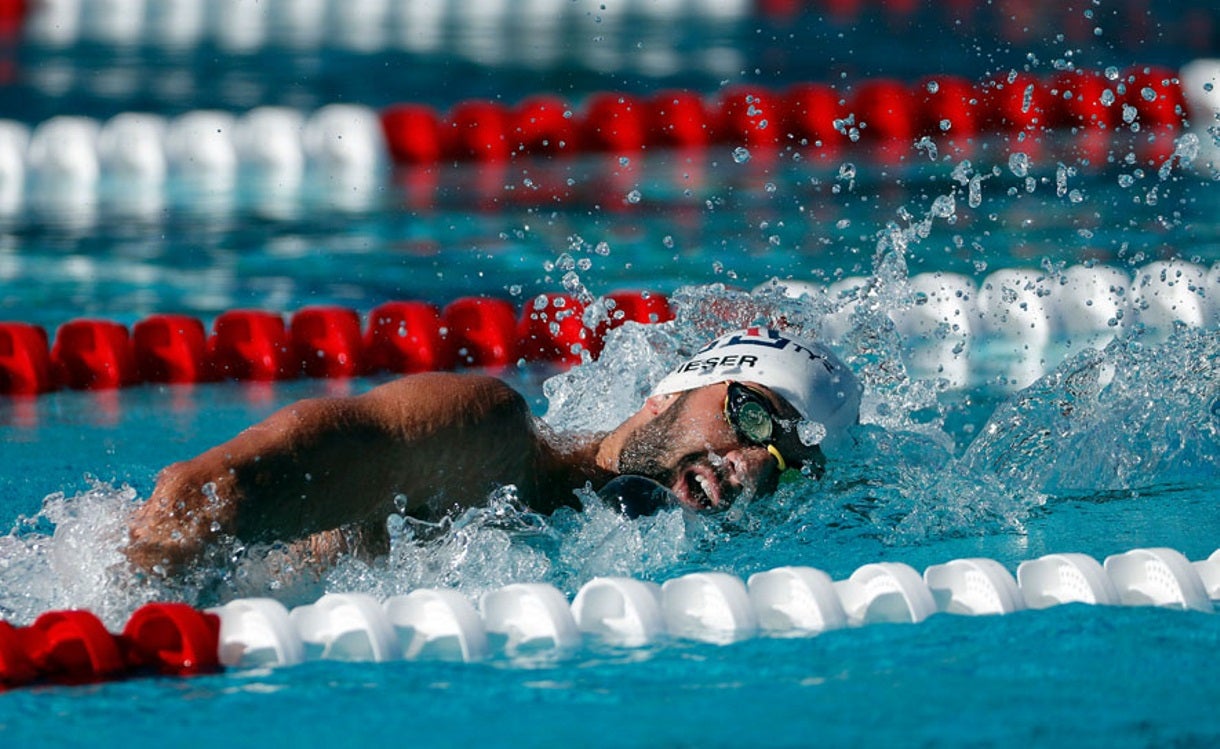 By Mike Watkins//Contributor | Friday, March 1, 2019
Having a father who swam collegiately and now coaches made it nearly inevitable that Chris Wieser and his siblings would find their way to the competitive swimming pool.
Initially, in fact, he didn't choose swimming.
Because his dad was adamant about Chris, his older brother and two sisters doing some form of physical activity in order to stay healthy, swimming was the easy and convenient outlet.
"In my younger years, it never really seemed like a choice – but not in a bad way," said Wieser, whose dad, Raymond, swam for the University of Georgia. "Swimming was always just part of my routine. I learned to swim around four years old and have been involved in some fashion with swimming ever since.
"I did a lot of other sports growing up – water polo, basketball and baseball – but swimming was always part of the equation. It was a constant sense of safety for me."
A recent graduate of Arizona (Dec. 2018), Wieser said he never really considered quitting swimming at the conclusion of his collegiate eligibility despite subpar NCAA Championship performances his last two years.
After finishing fourth in the 1500 freestyle at Olympic Trials – and then backing that up with a third-place showing in the 400 free and seventh-place finish in the 1500 free at last summer's Phillips 66 USA Swimming National Championships – Wieser said he saw opportunity to continue and improve in the sport and potentially make a future Olympic team.
Both results were marked improvements from the previous Phillips 66 Nationals in the summer of 2017 and were on par with his fourth-place finish in the final of the 1500 at 2016 Olympic Trials.
"Swimming is part of my life – it always has been – and after getting fourth at Trials, I figured if I gave it another chance then I might be able to make the big team," said Wieser, who completed his bachelor's degree as a double major in criminal justice and public management public policy studies. "There were little points where I had my doubts about continuing swimming.
"My last two NCAA seasons were disappointing to say the least but I've always been more focused on the long course season. So, I figured I would give it one more summer to get back on the National Team and if I didn't do it then I probably would've considered giving it up although it would've been kicking and screaming."
Although he was on a club team coached by his dad for the early years of his swimming career in their hometown of Vacaville, Calif., Wieser didn't really get serious about swimming until he was 12 when he set his goals on making the Western Zones team.
But even before those revelations, Wieser said he grew up dreaming of being an Olympian – it being the one true goal that drove him to be better.
And while he admits he had difficulty then gauging how close he was to achieving that goal, the past couple of years have helped him realize that he is well within striking range of seeing his name on the 2020 U.S. Olympic Men's Swimming Team roster.
"I think I have put myself into a good position and think I have set myself up to be better than I ever have, but if someone is better than me than that's just that," he said. "I'll do everything in my power to be the best me that I can be, but at the end of the day, if it's not meant to be and I put my best foot forward, then I can be proud of that.
"I think to be on top, I have to train harder, I need to work on my race strategy and I need to find a way to dig deeper in the middle of my races. I know I am getting excellent coaching and training at Arizona."
Wieser's coach, Cory Chitwood, is a former top-level swimmer himself who he credits as being "very intuitive" when it comes to his swimmers. He added that Chitwood is open with his swimmers and talks to them about what he wants to try and when he wants to try something different or if he should be doing something more.
As far as he's concerned, Wieser takes multiple "right steps" daily to achieve his goals – and continuing to build his confidence in the water plays heavily into his final projections.
"I've gained a good amount of confidence over the years, but at the same time this sport is so up for grabs it's hard to gauge yourself until after the fact," he said. "My confidence wavers from time to time as I'm sure everyone's does. I was extremely confident in my abilities after 2016 Trials, and I got too confident and burned out a little bit.
"There are teaching moments in every near miss and in every success. I don't think of my swims as near misses. I think of them as motivations. The only thing that has ever been difficult, and I mean truly difficult, in my career has been my most recent injury, and it's because there was a chance, I wouldn't be able to swim again. No one wants to leave a sport because of injury."
Despite this injury – a pre-existing knee injury from his sophomore year that returned in October with a dislocated patella that resulted in a torn patellar medial ligament and eventual surgery in November – Wieser knows he is on the mend (three months into an expected six-month recovery) and ready to see what this summer holds for him at Pan American Games in Peru.
It's an opportunity that's been a long-time coming for Wieser who may not have taken the "traditional" route to international success (he was never on a Junior National Team), but he knows he's exactly where he's supposed to be now to be in the best position next year to fulfill his Olympic dream.
"It's an honor to represent your country, especially oversees, and I hope to live up to the standards," said Wieser, who is currently studying to take the LSAT to potentially enter law school in the future.
"This will be my first major meet representing Team USA and that excites me a lot. I'm a competitor by nature and the pool is my coliseum, so I always look forward to seeing a new arena with new opponents to face."
This is used as a workaround to display Twitter feeds properly. Please do not modify or remove - Michael C