About Swim-a-Thon
WHAT IS SWIM-A-THONTM?
Swim-a-ThonTM is a fun and easy way to raise money for your team while supporting the USA Swimming Foundation! It's a simple, in-pool fundraiser where participants earn money by swimming lengths of the pool.
Swimmers ask family, friends, neighbors, or businesses to pledge money per length, or make a flat donation in support of the team. Athletes participating in your Swim-a-Thon fundraiser can earn cool prizes from the USA Swimming Foundation. Plus, qualified teams are automatically entered into the Swim-a-Thon contest where you'll have the opportunity to win prize packages, and, the ultimate prize, a visit from an Olympian! Read about the 2018 Swim-a-Thon contest prize winners here.
Since 2008, 1,000 swim teams across the country have raised $64.8 million dollars for their teams. In 2018 alone, teams raised $7 million dollars: an average of $25,000 per team!
WHAT CAN YOUR TEAM DO WITH SWIM-A-THON FUNDRAISING DOLLARS?
Training equipment
Pool time
Coach education and salaries
Team travel
Starting blocks
Anything else your club needs!
HOW DOES SWIM-A-THON HELP THE USA SWIMMING FOUNDATION?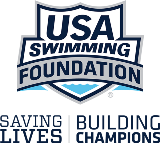 Since 2012, $2.3 million has been contributed to the USA Swimming Foundation from teams hosting a Swim-a-Thon. Teams sign a contract to contribute 5% (or more) of the gross proceeds from their event to the Foundation, though many teams choose to contribute more than 5%. Some teams even make the USA Swimming Foundation their charity of choice by donating 100% of their proceeds back!
WHAT DOES THE USA SWIMMING FOUNDATION DO WITH THIS MONEY?
Provide Swim-a-Thon teams with prizes and incentives, including organizing the annual Swim-a-Thon contest.
In 2018, provided $120,000 in funds to help fund USA Swimming's Diversity Select Camps, National Age Group Coaches' Summit, the Women's Leadership Conference series, and Club President's Summit.
Award grant funding money to our Make a Splash Local Partners to bring the lifesaving gift of swim lessons to children.
Support our National team athletes and coaches, allowing them to train full-time.
When your team hosts a USA Swimming Foundation Swim-a-Thon, you are not only raising funds to build a stronger team at home, you are helping to provide endless opportunities to kids, athletes, coaches, and swim programs across the country!
Are you ready to get started on your way to fundraising the fun and successful way, the Swim-a-Thon way?
Get Started Today!
There are two easy ways to get started. You can sign-up through our Swim-a-Thon Dashboard or through the TeamUnify fundraising platform.
Dashboard:

Register your Swim-a-Thon through the USA Swimming Foundation's online

Swim-a-Thon Dashboard

to record your team's activities and successes.
Within 60 days of the completion of your Swim-a-Thon event, please follow the instructions outlined below: