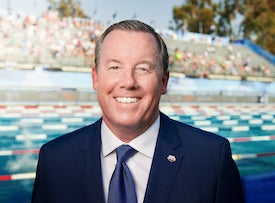 Tim Hinchey III became the President & Chief Executive Officer of USA Swimming in July 2017 and CEO of the USA Swimming Foundation in August 2019.
Over the course of his career as a sports business executive, Hinchey has held leadership positions in the United States and the United Kingdom for organizations such as Major League Soccer, English Premier League, National Basketball Association, National Hockey League and junior and minor league hockey franchises.
In his role as President of the Colorado Rapids, Hinchey led the club to both on- and off-field success. In 2016, he was named Major League Soccer's Executive of the Year.
Hinchey's international experience includes a three-year term as the Vice President of Commercial and Chief Marketing Officer for English football club Derby County FC.
Before heading overseas, Hinchey served in executive positions for the NBA Charlotte Bobcats and the New Orleans/Oklahoma City Hornets, as well as serving as Director of Strategic Alliances for Maloof Sports & Entertainment, the parent company of the Sacramento Kings.
His start in professional sports began with the Los Angeles Kings in 1991 and continued with sales and marketing roles with the Tri-City Americans junior hockey club and the IHL Utah Grizzlies. Hinchey went on to his role with Maloof Sports & Entertainment, where he developed strategic plans for all corporate partnerships integral to the NBA Sacramento Kings, WNBA Sacramento Monarchs, WISL Sacramento Knights, ARCO Arena and Senior PGA Tour Gold Rush Classic.
Hinchey is a former volunteer assistant swim coach for the Special Olympics Aurora Waves swim team and served on the Community Leadership Board of the American Diabetes Association of Colorado from 2013-16. He is a Board member of the Industry Advisor Committee for Insight Centre for Data Analytics based in Ireland, Arsenal Broadband Media in London and FanCompass in San Francisco.
A native of Danville, California, Hinchey went on to earn a B.A. in Economics while a four-year letterman swimmer at UC Irvine and went on to serve as a graduate assistant swim coach at the school. Hinchey and his wife Mia are the proud parents of six children.