By Mike Watkins//Contributor | Thursday, May 18, 2017
When Bonnie Brandon walked away from competitive swimming last summer following a disappointing Olympic Swim Trials, she left with a bad taste in her mouth.
She called it a career feeling like she had failed because there was so much more that she wanted to achieve. She knew she could have if she hadn't been injured.
The previous November (2015), she started to experience consistent shoulder pain. That next January, she learned she had a torn labrum but continued to swim for the rest of the season and through the summer despite the excruciating pain.
"Every stroke hurt, using a kick board hurt, holding my arm above my head in stream line hurt, and I was very limited in the weight room," Brandon said. "I received cortisone injections in both shoulders before Trials, and they only lasted about a week. They are supposed to last up to three months.
"I wanted more than anything to push through the pain and still achieve what I wanted to achieve but I couldn't. I was so mentally drained from college swimming and from dealing with my shoulder that I decided to stop; needed to stop is a better answer."
Shortly after Trials, Brandon took a job for eight months as the nanny of a 1-year-old girl, and loved every minute of it. Unfortunately, due to the nature of child care – picking the baby up regularly, etc. – she had to put off surgery to repair her shoulder.
Just recently, she started an accelerated academic program to earn her Master's degree in nursing from the University of Arizona, where she was an All-American swimmer and student.
It's a master's entry to the nursing profession that will take 15 months to complete, but when she's done and is licensed, Brandon will be an MSRN, ready to do her part to heal the sick now that she's done with swimming.
"It has been very difficult for me since I stopped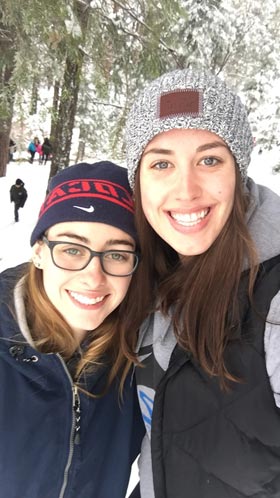 swimming," she said. "When so much of your identity is wrapped up in swimming, as soon as that's gone, it's hard to figure out who you are and what you are good for. I felt like everything I ever did in swimming was meaningless once I stopped. I thought I would never be as good at something as I was at swimming."
Still, despite having her career path planned out, Brandon said she hasn't worked past the disappointment of what could have been in swimming.
While she was at a Zones swim meet in Reddington, Calif., during the 2004 Olympics, she said she first entertained the dream of swimming in the Olympics. Just four short years later, she was competing in the semifinals of the Olympic Trials in Omaha alongside World Champion and eventual Olympic gold medalist Margaret Hoelzer.
Another four years later, she placed fourth in the 200 backstroke and fifth in the 100 back at 2012 Olympic Trials and was on the cusp of reaching her Olympic dream. The previous summer, Brandon earned a silver medal in the 200 back at 2011 Pan American Games, and later in 2012, she also won silver in the same event at Short Course World Championships.
Then, things took a turn for the worse. She started slowing down, making little improvement, and the shoulder injury hampered her swimming career from that point forward.
"I always wanted to compete for Team USA at the Olympics, and to get so close and then watch yourself fall further and further from your dream was heartbreaking," she said. "My long course swimming suffered tremendously after 2012. Every summer I thought 'this will be the summer where I turn it around and get back on course for the Olympics,' and every summer I finished disappointed in myself.
"I was beyond frustrated and was so confused about what was happening to me. I was lost mentally, and then my shoulder injury popped up on top of all that. I was just trying to get through each day without breaking down."
With her swimming career behind her – although she said she still gets in the water for fun when she has the time – Brandon said she has started doing CrossFit to stay on a structured workout routine. She's also had time to look back over her swimming career with a fresh perspective.
Someone who always loved to race, she said she had a desire to be the best she could be and race to the very end. Being a distance swimmer, she said she loved race strategy and analyzing her competition during the race and afterwards.
"It was fun, racing and swimming hard was truly fun," she said. "I even enjoyed racing in practice, it was a free space with endless potential. It was definitely worth all the hard work. Swimming has given me so much, taught me so much about life and about myself that I don't ever regret missing out on some things because I had practice."
She said she's grateful for all the qualities – leadership and work ethic, in particular – swimming instilled in her. She said she relies upon them every day in her personal and professional pursuits.
"I loved competing with Team USA on both the National Team and the National Junior Team," she said. "Having two silver medals is pretty awesome. Placing fourth and fifth at the 2012 Olympic Trials was a definite highlight. I am so proud of myself for that. Overall, I would not trade in the memories or the friends I have made. The memories and friends will last a lifetime."
And now that she's had some time away from training and competition, would Brandon make a comeback for another shot at realizing her Olympic dream in 2020?
Most likely not, as she'll be done with her master's degree by then and working full-time in her chosen profession.
But you never know.
"I have thoughts all the time about going back (to swimming)," she said. "I would love to be training right now, but I am also very happy to be starting this nursing program. Nursing has been my career plan for years, and it is so nice that it is finally here.
"I wish I could do both but due to the accelerated nature of this program, I would not be able to dedicate myself fully to swimming and school. Right now I am happy with my path. We will see what happens down the road. I would love to compete again, in some capacity, maybe masters. I don't regret stopping when I did, my body and mind needed a break for sure."