By Rachel Lutz//Contributor | Tuesday, February 12, 2019
Howard University in Washington, D.C. is the only HBCU (historically black college and university) to have an NCAA Division I swimming and diving program, and they want their team to be a reflection of the campus.
They recruit student-athletes regardless of where they're from, or what they look like, and are cognizant of the fact that HBCUs were founded on the idea of inclusivity.
The team, made up of 16 women and 20 men, is currently headed to their conference championships with their eyes on the NCAAs. They're focused on getting personal best times, making it back for finals, and putting themselves in scoring and medaling positions, coach Nick Askew said.
Having a Division I swimming and diving program is something they use to inspire their local community.
For the past three years, the team has held a "Learn to Swim" clinic with in-pool instruction and classroom Q&A sessions for children in the area in partnership with the USA Swimming Foundation, Sigma Gamma Rho, and Swim 1922. Last year's event hosted 700 families and included special guest Cullen Jones.
Because swimming isn't seen as a revenue-generating sport at colleges across the country, Askew said he and the team do everything they can in order to ensure that when the powers that be look at the program, "they have no good reason to think about cutting the program, because we're doing so much not only for the university but for swimming and diving, and even beyond."
One of the team's major fundraising efforts is to sell name plates for each of the 422 stadium seats in the swimming pool area. Coach Askew, a Howard alumnus himself, plans to buy four for him and his family.
"That's my designated seat when I come to the swimming pool or any event," he explained. "We started it as an idea for our record holders, more specifically our former record holders. Though their names may not be on the record board anymore, we have designated an area where they can still purchase a name plate for their seat to have an opportunity to still have a place where they can say, 'Hey this is my section. I used to hold a record, and this is why I'm able to have a seat in this particular area.'"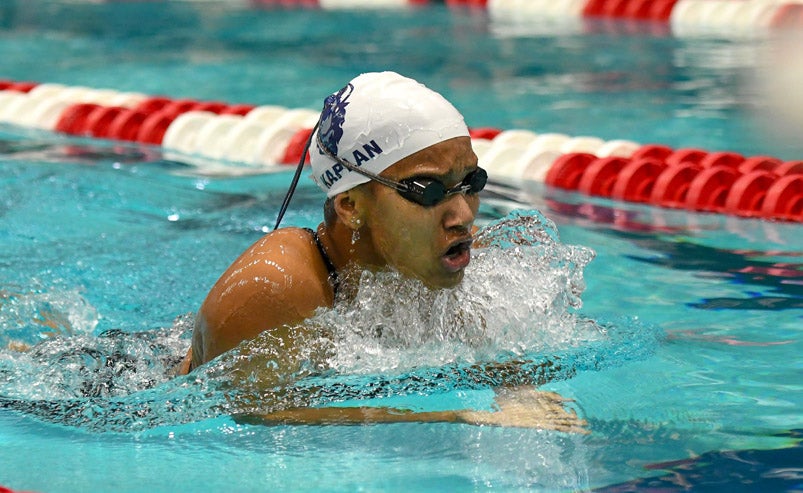 KaSandra Kaplan, or Kassie to her teammates, relegated a lot of the former record-holders to that section of the bleachers. Of the 20 women's swimming records at Howard, she owns 15 of them at last count.
She almost didn't swim in college. She didn't know it was an option.
The senior sports medicine major from Detroit started swimming at age 5 because her mom was a lifeguard and former college swimmer.
"I didn't know much about college swimming, so I think maybe my junior year of high school, my coach asked me [if I was planning on swimming in college] and I was like, 'wow, we can swim in college? That's a thing?'"
At the beginning of her senior year, she reached out to Askew and another coach, and ended up choosing Howard.
Kaplan and men's team captain Farion Cooper from Nassau, Bahamas agree the best part about the team is their closeness.
"It's definitely like a family," said Cooper, a Rhodes Scholar finalist who's off to medical school in the fall and plans to become a cardiologist. "A lot of us are very close friends. You can just tell that we all mesh together."