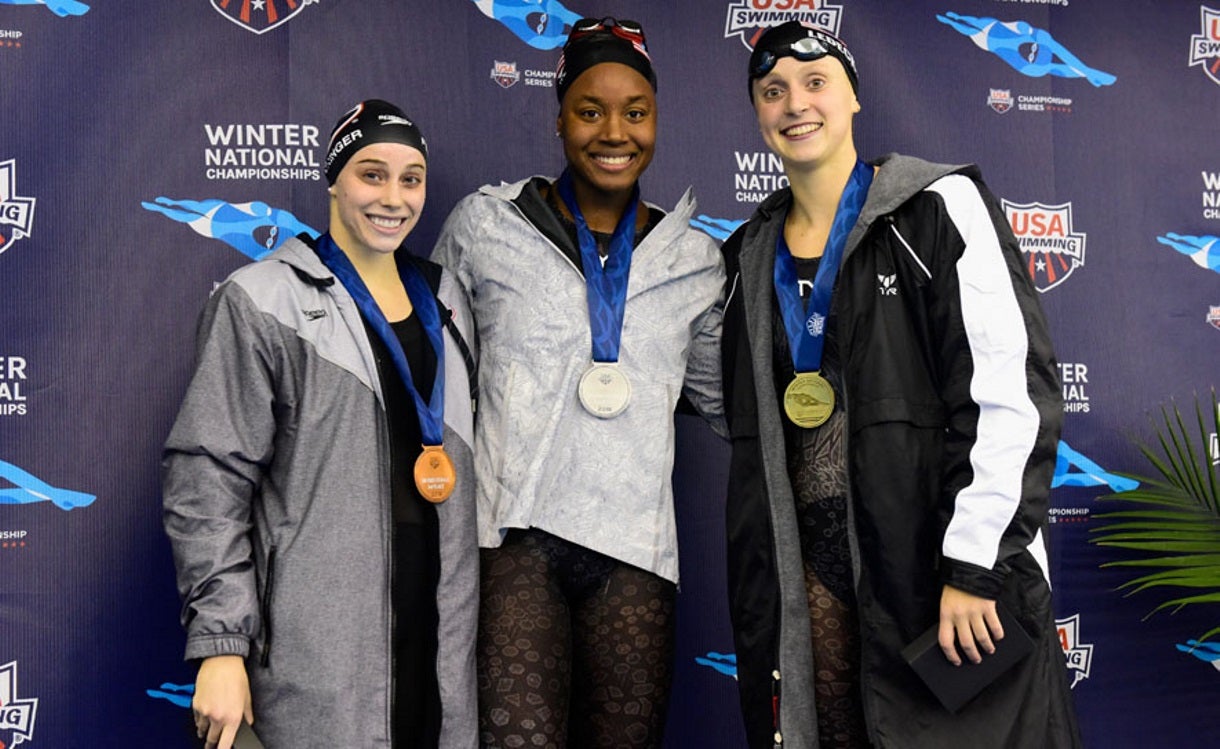 By USA Swimming | Friday, March 29, 2019
The United States Olympic Committee has collaborated with Olympic City USA and Colorado Springs National Governing Bodies to create the Team USA in our Community initiative. Yesterday, former Olympic and current National Team swimmers Katie Drabot, Hali Flickinger, Katie Ledecky, Simone Manuel, Allison Schmitt, Leah Smith and Olivia Smoliga all took to Colorado Springs Olympic Training Center to showcase what it means to be a part of Team USA.
The athletes had intensive training sessions at the Olympic Training Center pool, followed by a brief media session from Manuel and Ledecky, where the powerhouse duo described their time in Colorado Springs and their mindset heading into a big 2020 year.
Katie Ledecky (Bethesda, Md./Nation's Capital Swim Club):
On being back with teammates at Olympic Training Center…
"There are a couple of Stanford swimmers here that I train with every day, and then a number of swimmers from around the country and on the National Team, and Olympians training for World Championships. We're all training for the same championship meet at the end of this summer and that's really motivating. So far it's been really inspiring just being with them and having a lot of fun and working towards our goals together."
On preparation for 2020…
"It's coming quickly. We have World Championships this summer so that's kind of the next big target for us. That's the last time we get to race everyone from around the world, so that's a good gauge. It's an important year for us this year to really see where we're at and take everything we can to work on for 2020 so it's kind of crunch time for us. I'll be up here a lot, training for the next year and a half and just honing in on 2020."
On past Olympic successes…
"I'm not really focused on comparing myself to 2016 or 2012, it's all just about my own goals. Certainly I have goals that are big and scary and exciting and are going to push me to try and be better over the next year and a half. But I don't feel like I set those goals because of what I did in 2016, it's more of just always looking forward and always looking for new things to work on."
"I hope to be on a plane to Tokyo next year, obviously I want to make the team. I think that's the biggest challenge as a U.S. swimmer, our Olympic Trials are really difficult, high pressure, really exciting environment. Sometimes the third-place finisher who doesn't get to go to the Olympics would medal at the Olympics. It's just such a deep swimming country that we have here, and that's what makes us all so fast and makes us all better. But we all know that's the first step and we can't look beyond that. So I'll try to qualify for as many events as I can, and once I'm on that team I'll be looking to medal in as many as I can."
Simone Manuel (Sugar Land, Texas/Alto Swim Club):
On day's training session…
"It was tough. I definitely wasn't pleased with my times, but it was one of those good workouts where you have to put in the good work, had to feel the pain and I definitely know that it's going to pay off."
"It's nice to be back at the Olympic Training Center, it's just an amazing place where you can kind of focus on your goals, just eat, sleep, swim and get in some good training. We have everything we need here so it's nice to train here."
"It's so much fun to be back here with my teammates. Most of the time I'm just training with Stanford Women Swimming with Katie Ledecky and Katie Drabot who is also here, but it's really nice to also be here with some other National Team women who are having the same goals as me, really wanting to compete at a high level and represent their country well. It's a different atmosphere, we're all working together and helping each other reach their goals so it's a lot of fun."
On preparation for 2020…
"I think for me it's more of I take it every day at a time. Obviously the Olympics is something I need to focus on, but for me it's focusing on World Championships, but before that it's focusing on every practice before then and every competition that I have before then to prepare to do my best there."
On being a woman of color in the sport…
"Being a woman of color in this sport means a lot to me. Definitely growing up in this sport it was really difficult, and I really questioned if swimming was for me, but I think my identity of a woman of color, hopefully can inspire other women of color and men of color to get into the sport of swimming and try something that they felt possibly wasn't for them. I just want to an inspiration and example that swimming is something that anybody can do."
From national team camps and major sporting events to community involvement and school visits, Team USA athletes and local NGBs make an impact in Olympic City USA, just as Colorado Springs impacts the athletes and individuals of the U.S. Olympic and Paralympic movements.
This is used as a workaround to display Twitter feeds properly. Please do not modify or remove - Michael C