By Mike Watkins//Contributor | Friday, January 10, 2020
This summer, Katy Campbell will be competing in her third Olympic Trials in Omaha – and each one has been with a different purpose and approach.
Her first in 2012 was all about the experience. The second in 2016 was about handling the expectations.
And she's hoping this upcoming Trials – her third and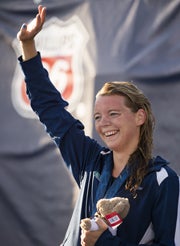 potentially her final one – is about the enjoyment as she wants to create lots of lasting memories regardless of how she swims.
"Both times before, I never really allowed myself to enjoy being in that environment and soaking in the meet, but this time I want to make sure that I do everything I can to do that," she said.
"In 2012, I was overwhelmed by the enormity of the event. In 2016, I had put so many expectations and so much pressure on myself that I didn't enjoy it. But now, I want to change all of that. I want to enjoy Trials this year because it might be my last."
Coming from a swimming family, Campbell said in many ways she was destined to pursue a future in the sport – although she hated it for the first few years.
Her parents, who both swam in college (her mom, Meg, also competed at a past Olympic Trials), started with her older brother, Alex, enrolled in swim lessons, and then Katy followed along with her two younger sisters, Sammi and Christine.
But she continued to hate it.
When she was 12 or 13, her mom made her sign a contract agreeing that she would stop crying on her way to practice, and it wasn't long after that when she found an unexpected but natural reason for liking and continuing with the sport.
"Once I started seeing fast swims and winning events at meets, I really started to love it; I'm naturally competitive, so it made sense," she said. "I also loved the social aspect of swimming. Being able to spend time with my friends was really important to me.
"Eventually, I started to appreciate swimming for both of those things at the same time, and that's when I really started to experience success."
That early success carried Campbell to a swimming scholarship at UCLA, where she earned numerous NCAA All-America honors and swam her way to spots on the 2015 and 2017 World University Games teams and 2015 World Championship team.
It was during her time at UCLA when Campbell began "experimenting" with open water competitions.
She swam in a few meets and quickly found another outlet for her love for distance swimming and swimming outside among the elements.
And when she finished her collegiate career with what she calls a disappointing NCAA Championships, it was open water competitions that kept her engaged and competing in the sport.
"I was pretty close to walking away from swimming, but I realized I didn't want to end my competitive career on such a bad NCAA meet," she said. "But it was really open water swimming that kept me training and competing.
"I love the uncontrolled, natural environment of swimming outside. There are so many controls to swimming in a pool – distance, turns, controlled environment, etc. But open water swimming really challenges your ability to adapt, be flexible, endure the elements, etc. I quickly realized I really loved it, and that prolonged my career. It's why I'm still swimming today, three years later."
Campbell continues to train for pool events but splits her time competing in open water and pool events – more on the open water side recently.
At last year's Open Water Nationals, she finished in the top 10 in both the 5k (ninth) and 10k (fifth) events and qualified to swim in the 25k at FINA World Championships last summer. There, she placed among the top 10 amidst monsoon weather conditions. The year before, she was fourth in the 10k at Open Water Nationals.
In the pool, Campbell has enjoyed a successful albeit uneven career. In 2014, she won the 1500 and finished 5th in the 800 freestyle events at Phillips 66 USA Swimming National Championships. Her win qualified her for 2015 Worlds, where she finished 18th in the 1500 free.
That same year at World University Games, she placed sixth in the 800 free and 7th in the 1500 – motivating her going into 2016 Trials.
In Omaha, she finished 12th in the 400 free and 13th in the 800 free events – missing the finals in both.
Those results, compounded by her "disappointing" final NCAA meet that year shook her confidence and prompted those thoughts of retirement.
Now, looking back, Campbell said she's so glad she withstood those disappointments because she's thoroughly enjoying swimming today.
"I've had so many great coaches throughout my swimming career – Kristine Quance, Terry Stoddard and now Dave Kelsheimer, among many others – who have motivated me and continue to motivate me to strive for more," said Campbell, who is currently applying to master's programs in a variety of special education disciplines and plans to enroll this fall depending on what happens at Trials.
"Ask most kids growing up in the sport and they will tell you they want to swim in the Olympics, so that was always my dream, too. Now that I have a new perspective about swimming, I don't let the pressure affect me as much, and it's showing up in my times. I'm excited to see what I can do in Omaha."
And once she does decide it's time to move on from the sport that's been her life for almost two decades – will she still swim?
The short answer is yes, and Campbell said she intends to keep the sport an integral part of her life even after she's done competing.
"Regardless of what happens this summer and what I decide moving forward, I know that swimming will always be part of my life," she said. "Even when my competitive career is over, I will still be involved. My dad and my uncle both swim Master's, and they continue to set goals for themselves in the water. I can't imagine my life without swimming."